Tuesday, July 14th, 2009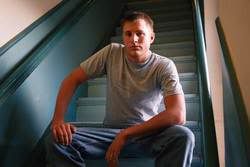 I've been a fan of Elijah's music for several years, but I've never really taken the time to give him a blog boost.  My first contact with him was when I was answering email for RBC.  He sent a message, offering his music for the Day of Discovery program with a link for a free download to hear his piano music.  I asked if I could download it for myself, also, and passed the link on to the Television Department.
I absolutely loved his music!  I told several of my friends about it and I know one of them did a post on a highly trafficked music review site, so I hope he got some hits from that!  Elijah is a native of Grand Rapids, so that's a plus in my book!  🙂  His music has a "George Winston" feel to it…very relaxing, yet very intricate–and the execution on the piano is just beautiful.
You can listen to some of Elijah's music on his website to get a feel for it.  Right now, he is making a really sweet offer to his fans.  If you do a blog post about his music, you can get a download of one of his CDs for free!  Just email the post link to  info@elijahbossenbroek.com Enjoy, everyone!